Enroll in GT6000 To:
Meet new people from across campus.
Have fun at social events with other graduate students.
Brainstorm ideas to manage your time and the stresses of graduate school.
Explore various resources on campus for everything from professional development to mental health to clubs and more.
Prepare for your professional career.
Practice skills you will use throughout graduate school and your career.
GT6000 is a great way to transition into the academic and social environment at Tech. I like how it is specifically catered toward grad students.
The information about campus resources was very helpful, I think just raising awareness of these resources is important.
To understand that I am not alone in the boat navigating the treacherous bends of graduate life. A feeling of inclusion was brought through these meetings. I'm glad I joined.

Schedule
View the schedule of available GT6000 sections, including special interest sections.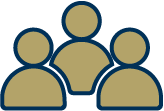 Student Leaders
Meet the cohort of GT6000 group leaders that lead classes and community engagement leaders that plan events outside of class.

Frequently Asked Questions (FAQ)
Read FAQ about GT6000 eligibility, registration, and course logistics.

Instructional Leadership
Meet the GT6000 instructional leadership.

Group Leader Application
Apply to become a GT6000 Group Leader.

Syllabus
Read the GT6000 syllabus.

Advisory Board
Meet the GT6000 Advisory Board.