From getting involved with the Graduate Student Government Association to taking fitness classes at the Campus Recreation Center, there are plenty of experiences for students to enjoy on campus and around Atlanta. Also, there are a variety of campus services and resources available to support you during your time as a grad student. Read on to learn more.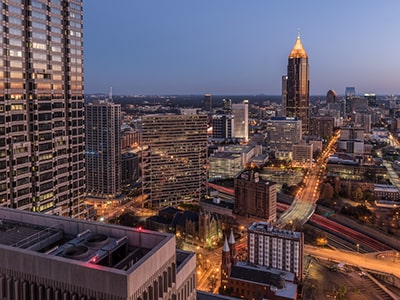 Atlanta
Midtown Atlanta is one of the city's most energetic and vibrant neighborhoods for business, culture, education, and entertainment.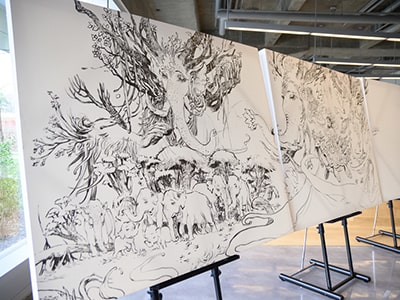 Arts and Culture
Georgia Tech serves as a home for artists, students, and faculty working at the innovative and inspiring intersection of art, science, and technology.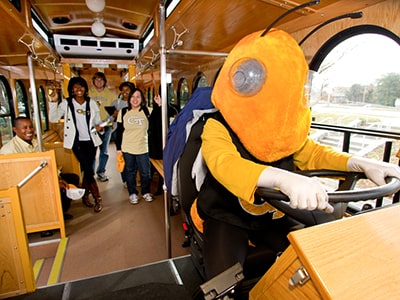 Campus Services
From the Barnes & Noble Bookstore to the Student Center to Stamps Health, Tech provides a variety of campus services to support graduate students.
Mental Health and Wellbeing
We know that life can get busy for graduate students, but it's important to make your health a priority. Tech offers options for nourishing your mind and body with a state-of-the-art fitness center, Wellness Empowerment Center, Center for Mental Health Care and Resources, and much more to help students thrive.
Diversity and Inclusion
The Division of Student Life works to foster unique communities on campus that help make Georgia Tech a place that engages and includes everyone. It is home to supports including the Office of Disability Services, LGBTQIA Resource Center, Veterans Resource Center, and Women's Resource Center.
Students' Temporary Assistance and Resources
The Students' Temporary Assistance and Resources (STAR) organization provides for students who need assistance with things like interview attire, food, housing, and loans.
Grad Student Appreciation Week

Every spring the Office of Graduate Education celebrates our graduate and professional students through various events and promotions recognizing their contributions, impact, and value to the Georgia Tech community.
Get Involved
There's more to life than lab and coursework. During your time at Tech, set aside some time to get involved with one of the over 200 graduate-student friendly organizations at Tech.

Graduate Student Government Association (SGA)
The Georgia Tech Graduate SGA strives to empower student organizations, embody student opinions, preserve student integrity, and enrich the student experience.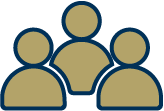 GT6000 Leaders
GT6000 is Tech's extended orientation program for new graduate students. Group leaders are current graduate students interested in mentoring and working with our new students.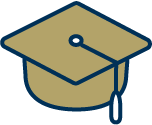 Student Alumni Association
The Georgia Tech Alumni Association provides students with opportunities to build skills, expand your network, and invest in your future by connecting students with over 180,000 alumni, the Atlanta community, and the Institute.
Career Services & Professional Development
Career Center
The Career Center is available to help you find success in your career and professional development journey. From résumé and cover letter reviews to hosting workshops and career fairs, the Career Center provides a variety of services and is available for one-on-one advisement. 
Assistantships
Many of Tech's graduate students are employed as graduate research or teaching assistants (GRAs and GTAs), including four out of five doctoral students. Assistantships provide hands-on research experience and an opportunity to learn teamwork. 
Fellowships
There are a variety of fellowship opportunities available to graduate students. Georgia Tech awards and coordinates numerous student fellowships–varying in value from a few hundred dollars that may be awarded on top of other funding, such as an assistantship, to full fellowships that cover tuition, fees, and pay a stipend. 
Graduate Student Policies
The Georgia Institute of Technology Policy Library houses all Institute-level policies. 
Please note: The Policy Library does not contain college, division, or departmental policies. For information on policies implemented by a specific college, school, division, or department, please check their respective webpage.