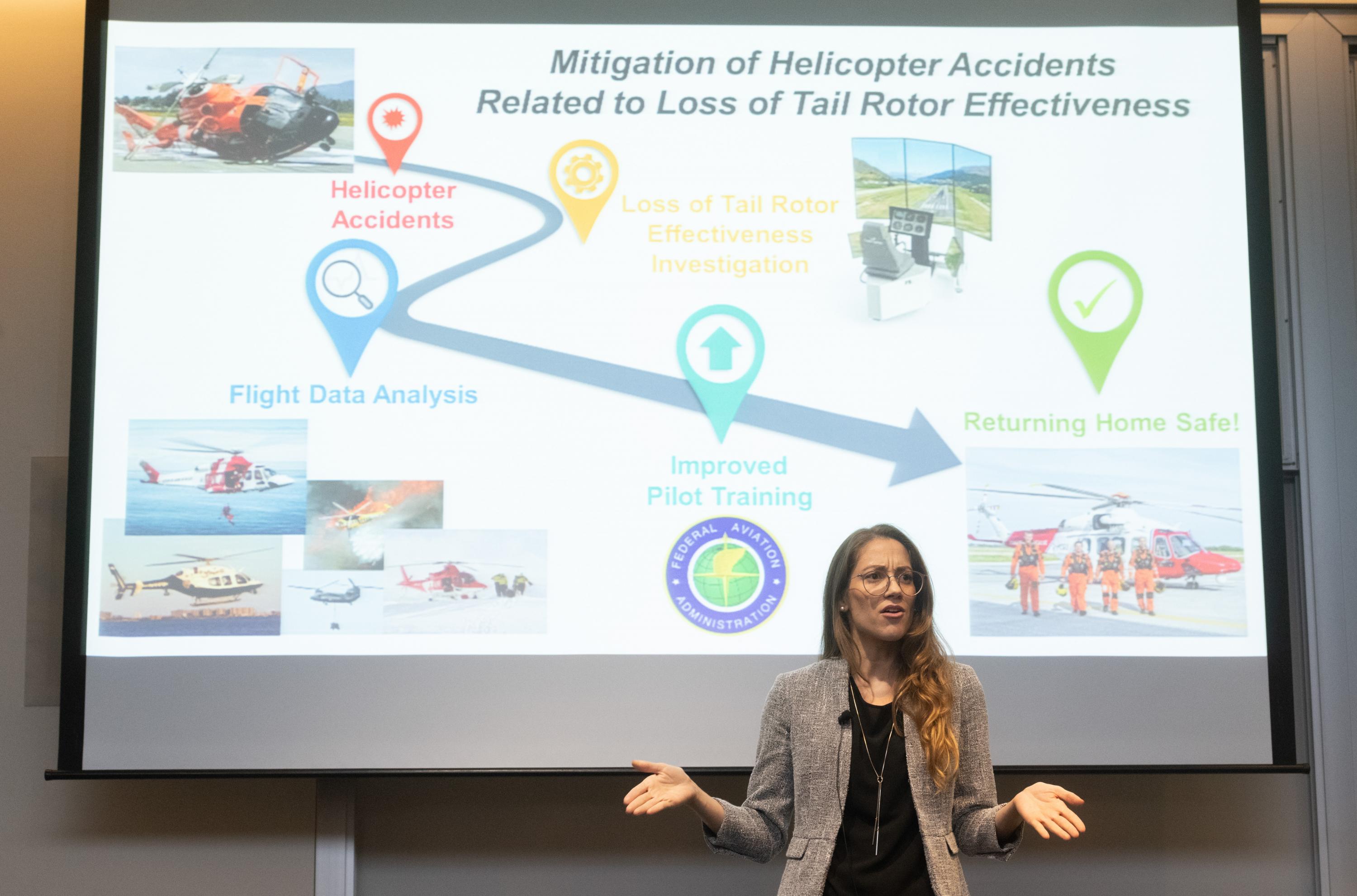 Apr 01, 2021 - Atlanta, GA
Article by Emma Ryan
For the first time, the final round of Georgia Tech's annual Three Minute Thesis (3MT) Competition will be held virtually on April 9. But, that doesn't mean that the 11 students who will be competing in the finals are any less excited. 
"I'm very happy the Three Minute Thesis Competition was still able to happen during these unprecedented times," said Andrew Tricker, one of the finalists and a fifth-year Chemical and Biomolecular Engineering Ph.D. student. "Making it to the finals is exciting and validates the effort I've put into my communication skills. I know everybody will have competitive presentations and can't wait to see the work of my fellow graduate students." 
Since 2015, Tech's version of this international competition, which started at The University of Queensland, Australia, has provided graduate students with an opportunity to hone their professional skills and win prize money to help further their research efforts. The competition challenges students to explain their research in three minutes in a way that anyone can understand.
And on April 9 from 3-4:40 p.m. Tricker and the other finalists will present their research on topics that could one day impact your day-to-day life. The campus community is invited to tune into the event via BlueJeans to cheer on the students and vote for the winner of the People's Choice Award. (Winners will receive research travel grants ranging from $500-2,000.) 
You can join the event here: primetime.bluejeans.com/a2m/live-event/yagbucjr.
Ten Ph.D. students and one master's student (who was awarded first place in the master's category and will be competing for the People's Choice Award) made the cut to participate in the finals. Congratulations to the following students: 
Andrew Tricker, Chemical Engineering
Cracking the Case of Sustainable Fertilizers: Ambient Ammonia Synthesis Via Mechanocatalysis
Clara Glassman, Medical Physics
Creating the Google Maps of Brain-Behavior Relationships: A New Look at Post Stroke MRIs
Hohyun Lee, Mechanical Engineering
Minimally Invasive Targeted Drug Delivery in the Brain Enhanced by Closed-loop Focused Ultrasound Control
Hongmo Li, Materials Science and Engineering
Plastics That Can Conduct Electricity: How Can They Impact Our Life?
Jelly Vanderwoude, Biological Sciences
Discovering Novel Genetic Markers of Antibiotic Resistance in Cystic Fibrosis Lung Infection of Pseudomonas Aeruginosa
Megan McSweeney, Chemical and Biomolecular Engineering
AptaTrigger: A Novel Biosensor Platform for Point-of-Care Diagnostics
Mohammed S. E. Sendi, Biomedical Engineering
Personalized Deep Brain Stimulation: A Window of Hope for Depression
Muhammad Saad Zia, Electrical and Computer Engineering
Mitigating Beam Alignment Errors in Millimeter-Wave Communications to Go Beyond 5G
Saad Javaid, Materials Science and Engineering
UltraVision and Time Manipulation: Technology Inspired Superpowers for Studying Cracks
Yifeng Shi, Chemical and Biomolecular Engineering
Shape-Controlled Pd Nanocrystals: Surface Science and Catalytic Applications
Young Hee Yoon, Chemical and Biomolecular Engineering
Understanding and Controlling Co-transport of Water and Organic Solvents in Microporous Carbon Molecular Sieve (CMS) Membranes
For more information about the 3MT competition, visit grad.gatech.edu/3mt.